The Human Resources Branch is a central pillar of the National Railways of Zimbabwe operations.  It exists to provide impetus and direction to the organisation through strategically Managing its human capital as its most valuable resource.  With the ever changing industrial trends the NRZs' Training College plays a major role in the development of skilled manpower who are rated among some of the best in the world.  This is a key investment for the NRZ and the HR Branch is also charged with maintaining a developmental approach to existing human capital.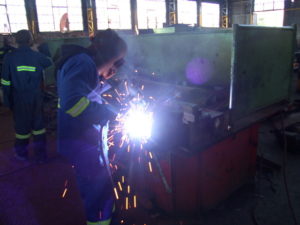 Technical College Courses
FULL-TIME THREE YEAR NATIONAL CERTIFICATE (NC) 

COURSES OFFERED

 
DEPARTMENT
Electrical Power Engineering/ Refrigeration and Air Conditioning / Electronic Engineering Communication Systems
Electrical Engineering
Motor Vehicle Mechanics
Automotive Engineering
Fabrication/Machineshop/Millwright
Mechanical Engineering

FULL TIME 6 MONTHS SKILLED WORKER COURSES:  

Platerwelder/ Fitting including Machining/ Turning Including Machining /Millwright/

Diesel Plant Fitting

Mechanical Engineering
Electrician/ Radio Communications Artisan/Refrigeration and Air Conditioning
Electrical Engineering
Painter Decorator/ Carpenter Joinery/ Plumbing and Drain laying
Construction
Motor Vehicle Mechanic/  Coach Trimmer
Automotive
Applicants should posses the following:
For all National Certificate (NC) courses
Five (5) Ordinary Level subjects at Grade C or better and should include English Language, Mathematics and a Science subject.
For skilled worker courses
Oral and written communication skills in English (Class 4).
5 Years exposure to the trade (Class 4)
Should have passed trade test in class 4, 3 or 2 and with not less than 12 months industrial exposure in the relevant class.
Supporting documents
A hand written application letter for the course applied for.
Original certificates, plus a set of certified copies of birth certificate, national ID and school certificates.
Technical College Growth 
The NRZ Training College is the best Technical College in the country as its workshops cover a wide spectrum of technical courses. The location of the college exposes students to the main Mechanical Workshops were they experience practical application of theories on the job. It is against this background that the Technical College has set in motion plans to elevate to a National University of Engineering
TRAINING FOR CILT AND GENERAL COURSES