What is our intercity passenger service?
The service is strategically designed to link major cities and towns in Zimbabwe in order to offer an affordable and convenient mode of travel mainly to the medium to lower income groups of the society.  Most of this service is provided during the night, giving passengers the convenience of sleeping while they travel to their respective destinations from which they intend to carry out business on the following day.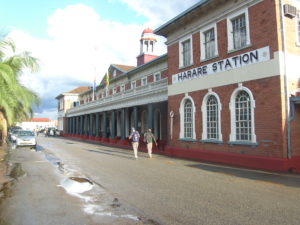 Harare train station.On what routes is our service available?
Our intercity passenger service generally links all the major cities and towns of the country and also runs from the major cities of Harare and Bulawayo to all the borders with neighbouring countries. The services currently available are as follows:
Harare-Bulawayo-Harare
Bulawayo-Victoria Falls-Bulawayo
Harare-Mutare-Harare
Bulawayo-Chiredzi-Bulawayo
Bulawayo-Chicualacuala-Bulawayo
Bulawayo-Francistown-Bulawayo
Bulawayo-Beitbridge-Bulawayo
Harare-Shamva-Harare
Harare-Chinhoyi-Harare
Gweru-Masvingo-Gweru
How can you make a reservation?
Reservations and payments for tickets can be done at any station near you. Reservations can only be done on the day of travel. NB Tickets are not transferable. Some of the major stations are Harare, Bulawayo, Mutare, Victoria Falls, Beitbridge, Gweru and Masvingo.
What choice of on-board accommodation is available?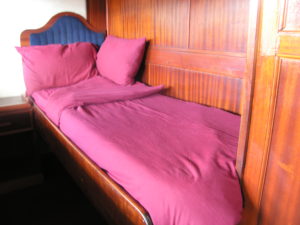 Sleeper Class
Accommodates a maximum of between 2 and 6 sleeping passengers and their hand luggage. Bedding linen is available at a nominal fee while toiletries are supplied free of charge.
Standard Class
Accommodates a maximum of 66 sitting passengers and their hand luggage. The sitting arrangements comprises two seats side by side and two toilet facilities at either end of the coaches.
Economy Class
Accommodates a maximum of 100 sitting passengers and their hand luggage. The sitting arrangement comprises two seats on one side and three seats on the other side with two toilet facilities at either end of the coaches.
What facilities are available at stations/terminals?
Cloakrooms
Passengers can leave their luggage at our clock rooms before boarding their train, or after disembarking whilst awaiting for a connection. This facility is available at all major stations.
Bathing Facilities
After a night of travel, a hot shower will be magical. NRZ provides its valued customers with bathing facilities at Harare and Bulawayo Stations. Passengers can enquire with the Station Master at these places for more details.
Restaurants
There are Rail Leisure Restaurants at our major stations serving, breakfast, lunch and supper for the convenience of our travellers.
What on-board services are available?
Bedding
Bedding is available on selected routes for a nominal fee.
Luggage
First class travelers are allowed free luggage of up to a maximum of 50kg, while second and economy class travelers are allowed 35 and 35 kg free luggage respectively.
Half of the above weights apply for children holding tickets at children's fare.
Scholars under 16 years of age travelling to and from school on scholars' concession tickets are allowed the weight of free luggage similar to adults.
Luggage in excess of the above mentioned weights is charged ordinary parcel rates.
Articles for business purposes are not considered as luggage and must be paid for at ordinary rates to the Guard, Conductor or Train Manager asthe case may be.
Dining Cars
Dining cars are for on-board food and beverage sales.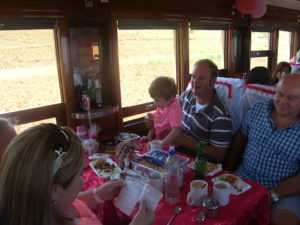 This facility is currently available on the following routes:
Bulawayo-Victoria Falls
Bulawayo-Harare
Bulawayo-Chicualacuala
Are there any special discounts?
Discounts are available for the following classes of travellers:
Children
Children under three years travelling in the care of other passengers travel for free.
Children aged between three and eleven years are conveyed at half the adult single fare applicable.
Group Travellers
Groups of ten or more traveling in first or second class are charged at the ordinary fare less 10 percent for a single ticket and at the ordinary fare less 25 percent for a return ticket.
National Disabled Persons
National Disabled Persons are charged at ordinary fare less 25%. Tickets at the reduced fare will be issued on production of an N.R.Z CONCESSIONARY CARD issued by the National Council of Disabled Persons of Zimbabwe and a National Identity Card by the intending passenger.
Elderly Persons
Elderly persons are charged at ordinary fare less 25%. This concession is allowed to all elderly persons of sixty years and above during off-peak periods which is defined as all days of the month with exception of Fridays, Saturdays, Sundays and all public holidays including a period of ten days prior to the commencement of any public holiday. Concessionary tickets will be issued on production of a National Identity Card or Passport of the intending passenger.
What are the travel times for the various routes?
The running times and stops for our passenger trains are as follows:
Harare-Bulawayo-Harare
Bulawayo-Victoria Falls-Bulawayo
Harare-Mutare-Harare
Bulawayo-Chiredzi-Bulawayo
Bulawayo-Chicualacuala-Bulawayo
Bulawayo-Francistown-Bulawayo
Bulawayo-Beitbridge-Bulawayo
Harare-Shamva-Harare
Harare-Chinhoyi-Harare
Gweru-Masvingo-Gweru