Ordinary Goods Train Service
This a general freight train consisting of a variety of cargo for different customers, destinations and from/to various depots/stations. The traffic conveyed by such a train is remarshalled at the major stations which have marshalling yards.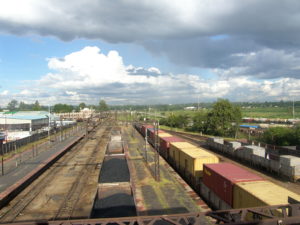 Express Train Service
An Express Train is a train consisting of cargo from one loading station/siding to one offloading station. Unlike the ordinary goods train, such a train bypasses intermediate station activities such as shunting and crew changes and therefore offers the advantage of reduced transit times and hence quicker delivery of customers' cargo. Currently this service is available on the Hwange to Harare, Beitbridge to Harare and Mutare to Harare routes.
Company Liner Service
Company liners are trains that are dedicated to customers. Such trains run from the point of loading straight to the customers' sidings. To ensure viability, long term contractual agreements are entered into between the NRZ and the customer. This concept ensures quality service at even more competitive rates.
Blockload Service
This train service is made up of consignments from one customer and/or siding with at least 10 wagons. The traffic then forms part of a full train from one major traffic centre to another. Its advantage is that there are no intermediate station activities such as shunting and this affords the traffic shorter transit times.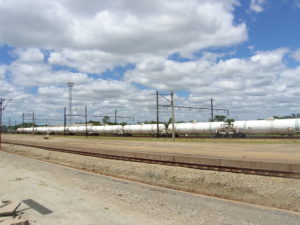 International Cargo Services
In conjunction with the other railways in the SADC region, we are co-ordinate our efforts in offering trains that do not suffer any delays at the borders.  Arrangements are in place with contiguous railways for 'run through' trains, in which case the whole train together with its crews proceed all the way to destination without stopping at the interchange borders.
What can you rail?
Because of our various classes of wagons, we are able to cater for all forms of cargo. Using our general purpose open wagons we cater for traffics such as minerals, agricultural produce and industrial products. We own a fleet of covered to assist us in catering for cargo such as perishables and other theft prone or weather sensitive products For traffics such as fuels and oils we own tankcar wagons. While we do not own any containers, we do also have flat bed wagons to cater for container traffic.
Where can you rail to?
Customers can rail their cargo to any destination through-out our Network System as well as to the our neighbouring countries.
What are our conditions of carriage?
Our conditions of carriage which are detailed in a downloadable handbook relate to, inter alia, the acceptance and conveyance of bulk freight, containers, livestock, parcels and passenger traffic over our lines. Also included in the conditions of carriage handbook is information pertaining to freight accounts, insurance and claims policy, use of privately owned wagons, cloak room, luggage, distance and our contact details.
What terminal facilities are available to handle your traffic?
Privately Operated Sidings
Privately Operated Sidings provide a full range of general handling, warehousing, break-bulk, delivery and distribution activities complementary to the rail service provided by us. Private Sidings are for the exclusive use of the customer or third party appointed by the customer and approved by us.  Private sidings are normally within or adjacent to the premises of the client.  The track or infrastructure is owned and maintained by us.
Public Sidings
Public Sidings are owned by us and are available on a 'common-user' basis to customers who wish to arrange the loading and offloading of their traffic.
Warehouse Facilities
For the convenience of our customers we own and lease out warehouse facilities to customers who use rail to carry their products. The facilities are available in Macheke, Headlands, Bindura, Kadoma, Kwekwe, Zvishavane, Chinhoyi and Beitbridge.
What security measures are in place to secure your freight cargo?
We  provide 24 hour security escort for your freight while in transit and as well as in our yards.
What frills go with our service?
Service Level Agreements and Transport Agreements
To encourage commitment to specific performance by both ourselves as well as our customers, we offer our customers the option of entering into Service Level/Transport Agreements.
Preferential Terms
For selected approved customers, credit terms are available and so are cash discounts. We also offer backhaul rates where customers guarantee return loads.